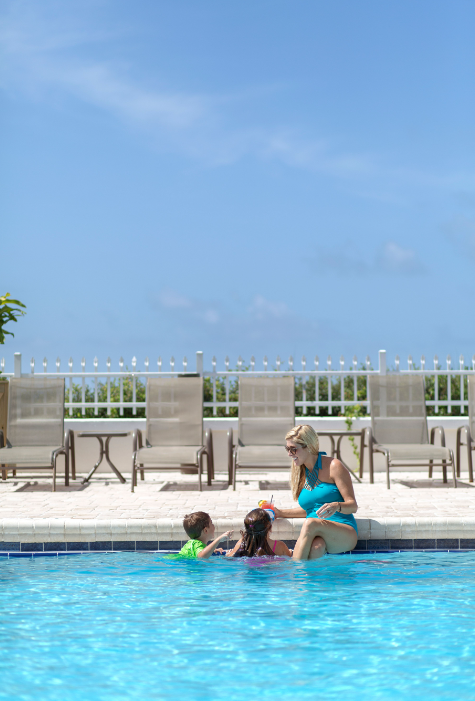 Summer is the perfect time to cool off with a dip in the pool or a day at the beach. To help you and your family stay safe while enjoying the sun and sand at the Santa Rosa Golf & Beach Club, here are some pool and beach safety tips for summer safety. Whether you're a first-time visitor or a returning guest, it's important to know the rules of the beach to have the best time possible. Read on for all the safety information you need before planning your next beach adventure!
Nothing screams summer more than jumping into the cool water of a pool on a hot day. But as fun as it can be, pool time should always be taken seriously. Here are some pool safety tips to keep in mind during your stay at the Santa Rosa Golf & Beach Club:
– Always supervise your children when they are in or around water. The club does not have lifeguards on duty, so it's important to keep a watchful eye on your little ones at all times.
– Make sure everyone knows how to swim, and consider enrolling your kids in swim lessons if they aren't already confident swimmers.
– Stay hydrated. Dehydration can be a real risk when you're spending time in the sun and water. Make sure to drink plenty of fluids, especially water, throughout the day.
– Use proper flotation devices. Floaties, noodles, and other inflatables can be a lot of fun, but they should never be used as a substitute for a life jacket.
– Stay out of the water during a thunderstorm. Lightning can strike even if the storm is not directly overhead, so if you hear thunder, it's time to get out of the pool.
By following these simple pool safety tips, you can enjoy a refreshing dip in the water with your family while keeping everyone safe and sound.
Located directly on the scenic Gulf of Mexico, Santa Rosa's Beach Club offers the ultimate water experience with a private pool and beach access. As a member or guest, it is important to always prioritize safety while enjoying the beach.
Here are some beach safety tips to keep in mind:
1. Stay hydrated – Drink plenty of water before, during, and after your beach day. The hot Florida sun can cause dehydration, which can lead to serious health problems.
2. Swim with caution – Always swim within the designated swimming areas and never swim alone. Pay attention to beach flags that indicate the water conditions, and do not enter the water when red flags are posted.
3. Protect your skin – Apply sunscreen with a high SPF rating, and reapply every two hours. Wear a hat and sunglasses to protect your face and eyes from the sun's harmful UV rays.
4. Be aware of marine life – The Gulf of Mexico is home to a variety of marine life, including jellyfish and stingrays. Be cautious when entering the water and watch where you step.
5. Keep the beach clean – Pick up after yourself and dispose of trash in the provided trash cans. Leaving litter on the beach not only looks bad but can harm marine life.
By following these beach safety tips, you can have a fun and safe time at Santa Rosa's Beach Club. Remember to always put safety first and enjoy your time in the sun!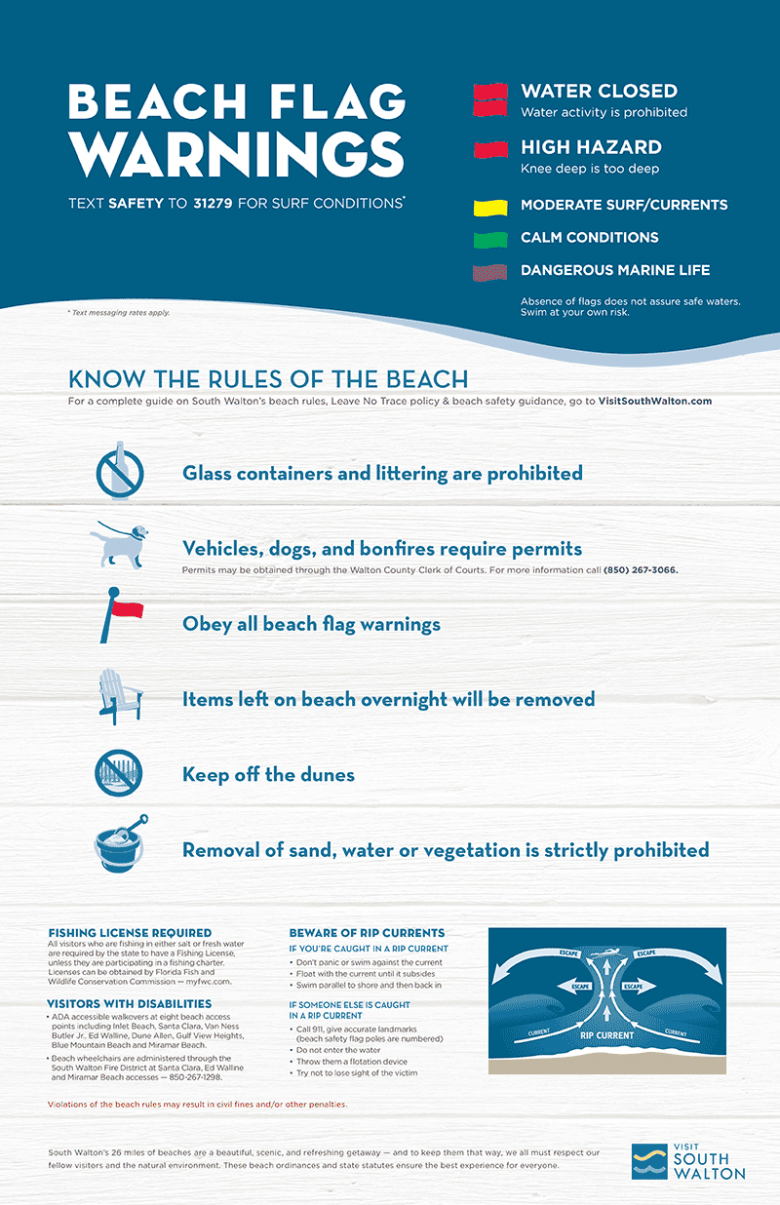 When it comes to beach safety, being aware of the surf conditions is crucial. That's why Santa Rosa Golf & Beach Club uses a beach flag system to inform members and guests of the current conditions.
The flag colors represent different conditions and dangers. Here's what each color means:
– Green Flag: The water is calm and conditions are safe for swimming.
– Yellow Flag: Caution is advised as there may be moderate surf and/or currents.
– Red Flag: The water is dangerous, and swimming is not recommended.
– Double Red Flag: The beach is closed due to extremely dangerous conditions.
– Purple Flag: Dangerous marine life, such as jellyfish or sharks, are in the area.
To make it even easier to stay informed, Visit South Walton offers a convenient texting service. Simply text SAFETY to 31279 for current surf conditions.
In addition, Santa Rosa Golf & Beach Club recommends using the free "Perfect Beach" app, which provides up-to-date surf forecasts, water temperatures, and more.
Remember, it's important to stay hydrated and avoid overexposure to the sun while enjoying the beach. Be sure to bring plenty of water and apply sunscreen regularly. By following these tips and staying aware of the beach flag system, you can enjoy a fun and safe day at the Santa Rosa Golf & Beach Club.
See you at the Santa Rosa Golf & Beach Club this summer!
We hope that these safety reminders will help you have a fun and enjoyable summer at the Santa Rosa Golf & Beach Club. Remember to always put safety first and have a blast under the sun. Welcome to the club, and we can't wait to see you here!